Thursday January 27, 2022
7 minutes to read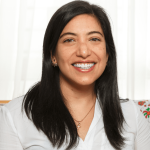 Paloma Velasquez
BNHM (New Zealand), MD (Chile)
The first mention of Chamomile suggests relaxation, better sleep and very mild sedation. It is often referred to as our bedtime tea.
Chamomile's common name Matricaria, derives from the Latin word matrix, meaning womb. This is because chamomile has been used historically to support imbalances of the female reproductive system. 
Today, in different forms and dosages, chamomile is widely used to assist with a variety of conditions, such as:
Anxiety

Restlessness

Difficulty to sleep

Inflammation of the skin

Support of the digestive system.
Let's look in more detail what modern research and traditional medicine have to say about Chamomile (Matricaria chamomilla).
Chamomile can be found worldwide. A variety of plants are known as "chamomile" but German chamomile (Matricaria recutita) is the most popular and most researched.[3]
In this article we will refer to Matricaria recutita.
Botanical name and synonyms[3,4,5]
Common name

Matricaria recutita,

Matricaria chamomilla, Chamomilla recutita

English

: German chamomile, wild chamomile

German

:  Kamillenblüten, Feldkamille

French

: Fleur de camomille, matricaire

Italian

: Camomilla

Danish

: Kamille

Spanish

: Manzanilla

Anthemis nobilis,  Chamaemelum nobile

Roman chamomile

 

Matricaria discoidea, Matricaria matricarioides

Rayless chamomile, Pineapple weed

Anthemis arvensis

Corn chamomile
Chamomile is native to Europe and Western Asia, but can be found around the world. It is an annual herb that grows tall, usually around 30 cm, but with the right conditions it can grow up to 1 metre. 
Leaves are pale green, smooth, alternate, lobed, with ending points. Stems are round, furrowed and hollow.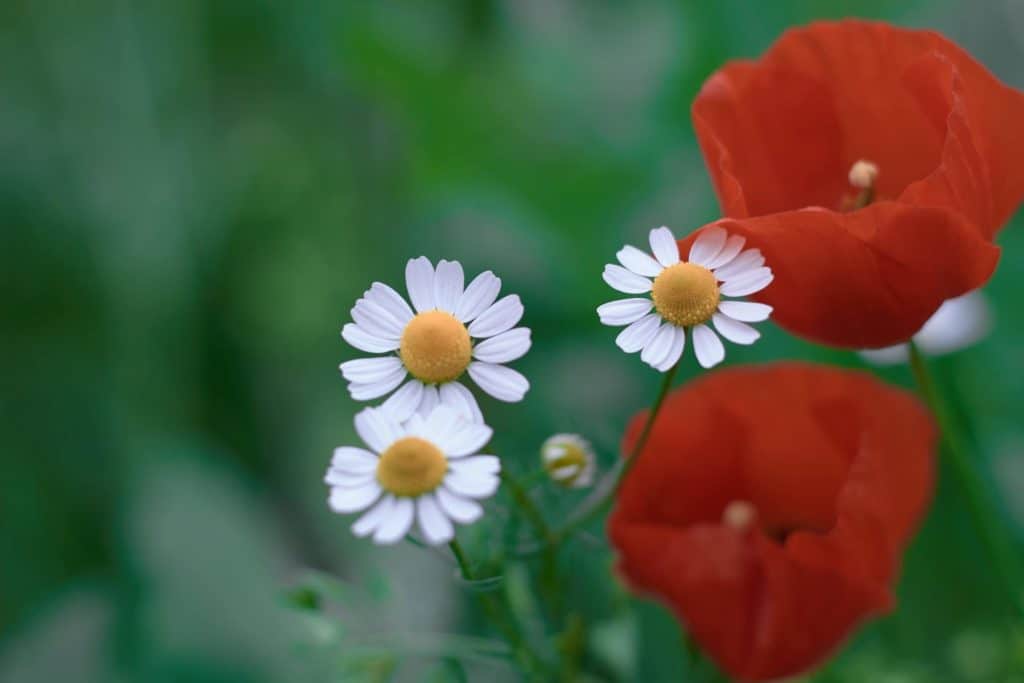 The flowers consist of white ray florets that surround a central mound of tiny yellow disc florets. The flower is 1.2 to 2.4 cm in diameter.[3,6]
German chamomile is aromatic and the taste is mildly bitter, buttery, and has a hint of sour apple and hay.[7]
According to traditional herbalism, chamomile has a broad use and is considered a safe herb.[1]
Medicinally, the part most often used is the flower head.[5]
A small clinical trial conducted for 8 weeks in people with generalised anxiety disorder, reported benefits on the group receiving chamomile extract (Matricaria recutita) (standardised to contain apigenin 1.2 % ).[8]
RELATED: Increase in Anxiety: Are we "The Anxious Generation"
Chamomile is included in the pharmacopoeia of 26 countries. Chamomile's other principal uses are to support where there is muscle tension and skin irritation.[12]
Traditionally, chamomile has been used for indigestion, gas, colic, and externally for rashes, conjunctivitis and burns.[1]
Chamomile is commonly recommended for children, from teething pain to topical use such as itchy skin and nappy rash.[7]
Other chemical constituents that are considered to be active are volatile oils such as the sesquiterpene chamazulene and bisabolol.[5,12]
Chamazulene is formed from matricine during steam distillation; it gives a light blue colour to the essential oil.[3,7]
Chamomile flowers and leaves can be eaten raw or cooked. The flowers can be used to give flavour to alcohol, vinegars, oils or syrups.[4]
There is little information on the nutritional facts of chamomile. It is known to contain, iodine, calcium, potassium, magnesium, iron, zinc and manganese.[6]
Chamomile has an extensive use, internally and externally. Still, only a few clinical trials have studied the claimed benefits.[12]
Support of the digestive system
One of chamomile's key uses has been to support digestive conditions were there is spasm and inflammation, such as 
Indigestion

Colic

Irritable bowel syndrome

Ulcerative colitis

Flatulence

Diarrhoea

Diverticulitis.
Uses that have some clinical data, include impaired digestion, flatulence and bloating.  
Chamomile, like dandelion, also supports the digestive system. Still, they have different herbal actions so they are recommended for different situations.
RELATED: Dandelion (Taraxacum officinale)
Several of chamomile's constituents have shown antispasmodic activity including matricine, chamazulene and alpha-bisabolol.[6,13]
Chamomile has also been used for nausea due to nerves, travel sickness and gastric ulcers.[12]
External uses, skin and wound healing
The German Commission E has accepted that chamomile can be used for inflammation of the skin, mucous membranes; including gums, oral cavity, and anogenital area.[13,14]
RELATED: Zinc (for immunity, skin health and libido)
Topical applications of chamomile extract have reported a reduction of inflammation in a small clinical trial.[15]
A small study reported benefits of using a chamomile solution to support radiation mucositis, a complication of head and neck irradiation and systemic chemotherapy.[13,16]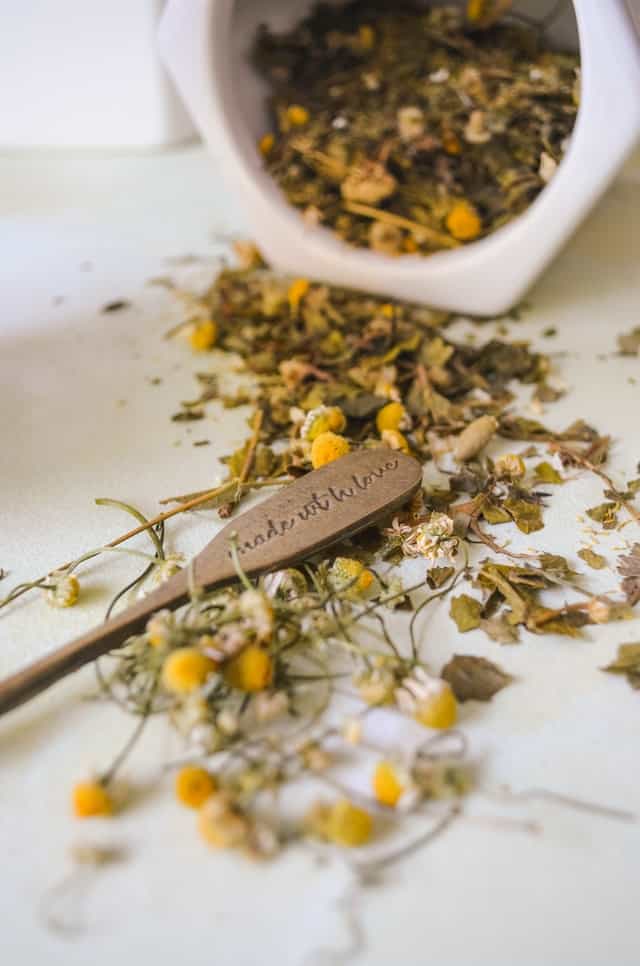 In relation to how chamomile affects inflammation pathways in the human body, there is little evidence. Certain in vitro studies have reported that alpha-bisabolol and chamazulene inhibit leukotriene synthesis and that apigenin inhibits arachidonic acid metabolism.[13,17,18,19,20]
Chamomile has traditionally been recommended topically for eczema, wounds, ulcers, neuralgia, mastitis and haemorrhoids.[12]
Chamomile can be used as a herbal infusion, fluid extract, tincture, essential oil, infused oil, gel, hydrosol, or steam inhalation.[1] 
Therapeutic dosage for chamomile in an adult is considered to be[3]:
Infusion of dried leaves: 2-4 g, three times a day,

Fluid extract (1:2) : 3-6 ml, once a day, 

Tincture (1:5) : 7-14 ml, once a day,
Note: 50% ethanol is the preferred extraction solvent

Infusions or semisolid formulations containing 3% – 10% weight of the flowers or equivalent for external use as a compress, wash or gargle.

[3]
Chamomile is considered a safe herb for consumption.[12]
It is contraindicated in people with a known sensitivity or allergy to plants of the Asteraceae family.[13]
Baths using chamomile products are contraindicated in cases of open wounds, acute skin diseases, severe infections, large skin injuries, serious circulatory disorders and cardiac insufficiency.[21]
Possible interactions with medications
No interactions have been reported in vivo.[3,13]
Possible interactions with herbs and supplements
Currently there is no evidence of interactions with other herbs or supplements.
When making a chamomile infusion, you can control the bitter taste with the steeping time.[7]
1 – 2 minutes for a floral sweet tea

3 – 4 minutes for a mildly bitter digestive 

10 minutes for a bitter tea.
Since chamomile has a broad use and is generally safe and an excellent plant for children, it is highly recommended to have it at home.
If you liked this article, you might want to read more about similar topics in our section on Natural Medicine.
What are the effects of chamomile on the brain?


According to traditional herbalism chamomile is considered a

nervine

, meaning it is considered to have

neuro active properties

, thus helping to  ease tension and anxiety.

[3,5]


Thus, a cup of chamomile tea might be a marvellous way to support relaxation after a long and stressful day.

Are there any side effects of chamomile on blood pressure?
There is little evidence, traditional use or research that reports negative effects on blood pressure.


Can chamomile tea aid and benefit fertility?
There is no evidence of traditional use or research that suggests that chamomile would aid with fertility.

Paloma Velasquez is a registered Naturopath and Medical Herbalist based in Auckland, New Zealand. She earned her degree from Wellpark College. Also, Paloma is a Medical Doctor, completing her studies from Pontificia Universidad Católica de Chile.
She is the founder of Aruraqi, and offers health consultations with an integrative approach. Paloma is passionate about educating and empowering people in the community through workshops and healthy cooking classes.
(1) De la Foret, R. (2017). Alchemy of herbs: transform everyday ingredients into foods and remedies that heal. Hay House, Inc.
(2) Hardy, K., Buckley, S., Collins, M. J., Estalrrich, A., Brothwell, D., Copeland, L., García-Tabernero, A., García-Vargas, S., de la Rasilla, M., Lalueza-Fox, C., Huguet, R., Bastir, M., Santamaría, D., Madella, M., Wilson, J., Cortés, A. F., & Rosas, A. (2012). Neanderthal medics? Evidence for food, cooking, and medicinal plants entrapped in dental calculus. Die Naturwissenschaften, 99(8), 617–626. Retrieved from https://www.researchgate.net/publication/229160372_Neanderthal_Medics_Evidence_for_Food_Cooking_and_Medicinal_Plants_Entrapped_in_Dental_Calculus
(3) Mills, S., & Bone, K. (2000). Principles and practice of phytotherapy: Modern herbal medicine. Churchill Livingstone. 
(4) Knox, J. (2013). A forager's treasury: a New Zealand guide to finding and using wild plants. Allen & Unwin.
(5) Hoffmann, D. (2003). Medical herbalism: the science and practice of herbal medicine. Healing Arts Press.
(6) Fisher, C. (2009). Materia medica of western herbs. Vitex Medica. 
(7) Masé, G., & King, J. (2016). DIY bitters: reviving the forgotten flavor. A guide to making your own bitters. Fair Winds Press. 
(8) Amsterdam, J. D., Shults, J., Soeller, I., Mao, J. J., Rockwell, K., & Newberg, A. B. (2012). Chamomile (Matricaria recutita) may provide antidepressant activity in anxious, depressed humans: an exploratory study. Alternative therapies in health and medicine, 18(5), 44–49. Retrieved from https://www.ncbi.nlm.nih.gov/pmc/articles/PMC3600408/
(9) Viola, H., Wasowski, C., Levi de Stein, M., Wolfman, C., Silveira, R., Dajas, F., Medina, J. H., & Paladini, A. C. (1995). Apigenin, a component of Matricaria recutita flowers, is a central benzodiazepine receptors-ligand with anxiolytic effects. Planta medica, 61(3), 213–216. Retrieved from  https://doi.org/10.1055/s-2006-958058
(10) Avallone, R., Zanoli, P., Puia, G., Kleinschnitz, M., Schreier, P., & Baraldi, M. (2000). Pharmacological profile of apigenin, a flavonoid isolated from Matricaria chamomilla. Biochemical pharmacology, 59(11), 1387–1394. Retrieved from   https://doi.org/10.1016/s0006-2952(00)00264-1
(11) Salehi, B., Venditti, A., Sharifi-Rad, M., Kręgiel, D., Sharifi-Rad, J., Durazzo, A., Lucarini, M., Santini, A., Souto, E. B., Novellino, E., Antolak, H., Azzini, E., Setzer, W. N., & Martins, N. (2019). The Therapeutic Potential of Apigenin. International journal of molecular sciences, 20(6), 1305. Retrieved from https://www.ncbi.nlm.nih.gov/pmc/articles/PMC6472148/
 (12) Gardiner P. (2007). Complementary, holistic, and integrative medicine: chamomile. Pediatrics in review, 28(4), e16–e18. Retrieved from https://www.researchgate.net/publication/51382558_Complementary_Holistic_and_Integrative_Medicine_Chamomile
(13) World Health Organization. (1999). WHO monographs on selected medicinal plants  (vol 1.). World Health Organization. 
(14) Blumenthal M. (1998). The complete German Commission E monographs : therapeutic guide to herbal medicines. American Botanical Council.  
(15) Aertgeerts P, Albring M, Klaschka F, et al. Comparative testing of Kamillosan cream and steroidal (0.25% hydrocortisone, 0.75% fluocortin butyl ester) and non-steroidal (5% bufexamac) dermatologic agents in maintenance therapy of eczematous diseases. Z Hautkr 1985;60:270-277. [Article in German]. Retrieved from https://pubmed.ncbi.nlm.nih.gov/3158124/
(16) Carl, W., & Emrich, L. S. (1991). Management of oral mucositis during local radiation and systemic chemotherapy: a study of 98 patients. The Journal of prosthetic dentistry, 66(3), 361–369. Retrieved from https://doi.org/10.1016/0022-3913(91)90264-w
(17) Carle R, Gomma K. (1991). Medicinal uses of Matricariae Flos. British Journal of Phytotherapy 92;2(4):147-53. 
(18) Safayhi, H., Sabieraj, J., Sailer, E. R., & Ammon, H. P. (1994). Chamazulene: an antioxidant-type inhibitor of leukotriene B4 formation. Planta medica, 60(5), 410–413. Retrieved from https://doi.org/10.1055/s-2006-959520
(19) Gerritsen, M. E., Carley, W. W., Ranges, G. E., Shen, C. P., Phan, S. A., Ligon, G. F., & Perry, C. A. (1995). Flavonoids inhibit cytokine-induced endothelial cell adhesion protein gene expression. The American journal of pathology, 147(2), 278–292. Retrieved from https://www.ncbi.nlm.nih.gov/pmc/articles/PMC1869822/
(20) Aboul-Ela, M., & El-Lakany, A. & Hijazi, M. A. (2011, May). Genus Matricaria: Chemistry and Pharmacology [Paper presentation]. International Scientific Conference, Lebanese American University-Gebil, Lebanon. Retrieved from https://www.researchgate.net/publication/306079705_Genus_Matricaria_Chemistry_and_Pharmacology
(21) European Medicines Agency. (2016). European Union herbal monograph on Matricaria recutita L., flos. European Union.